Floating Moving Device
Optimum transfer of cables
Floating Moving Device (TKFMD) – To compensate for lateral offset in cable carriers
A flexible driver connection is required to ensure guiding of the cable carrier without transverse forces in applications with increased lateral offset. The connection has to ensure a relative movement between the connection of the cable carrier system and the system driver.
Tolerance compensation:

Horizontal: min. +/- 30 mm, vertical: min. +/- 20 mm
Inaccuracies in channel alignment/manufacturing/assembly are compensated

Continued cable routing
No threading or passing through of the tail lengths required
Wear

Wear reduced to a minimum
Roller-guided system in connection with all TSUBAKI KABELSCHLEPP guide channels

Material
Stainless steel/aluminum, or painted to customer specifications
Easy installation
The cable carrier system has two defined mounting assemblies for easy installation of cables and hoses
Cable routing
The protected continued cable routing in the Floating Moving Device corresponds to the inner height of the cable carrier
Strain relief
Easy access and assembly with LineFix clamps for strain relief
Standard connection dimensions

For horizontal and vertical connection including GO module (friction-optimized for low wear)
Guiding without transverse forces:

protects the cable carrier
minimizes costs through reduced downtimes
reduces defects/malfunctions/damage

The compensation of the parallel error between the system and the cable carrier is ensured
Easy maintenance/disassembly, if necessary
Easy retrofitting on an opposite-arrangement system
Easy connection options
System reliability and availability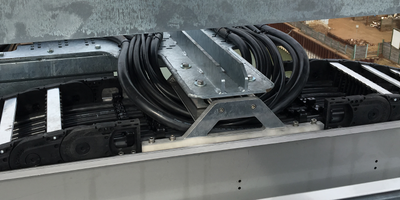 Type
Inner width Bi
[mm]
M0950
130 – 500
M1250
150 – 800
M1300
140 – 500
TKHD90
140 – 500
* Additional inner widths on request.