RSC – Roller Supported Chain
Rolling instead of gliding – the proven principle for reduced friction
Cable carriers on rollers are a secure and reliable solution wherever a gliding system cannot be installed due to very long travel lengths or strong friction. On the RSC, the upper run does not glide on the lower run but on rollers. The rollers are mounted in roller bearings on the side of the cable carriers and permit very long travel lengths, for which substantially less drive power is required. The tensile/push forces are decreased by up to 90 percent compared to gliding arrangements. Available for the types M0950 and M1300.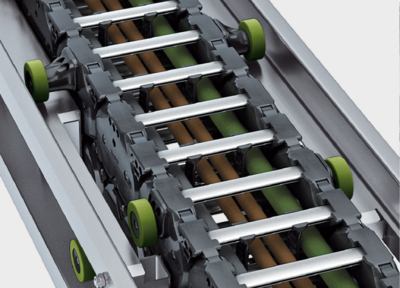 Lower costs and shorter maintenance times
If rollers are worn out, they can easily be replaced during maintenance. This means that time-consuming and expensive replacement of the complete cable carrier is no longer necessary. Notches in the channel allow easy visual checks and the rollers are easy to access. That saves time during maintenance and repair work.
Quiet, low-vibration operation
The rollers run on the guide rail and do not knock against other rollers. Ball bearings and a plastic roller surface support quiet, smooth operation.

Easy maintenance – rollers can be replaced without having to replace the side bands
Cable carrier on rollers (RSC)
Suitable for all required travel lengths
90 % lower tensile/push forces than with gliding arrangement and therefore significantly less drive power required
Quiet, low-vibration operation
Space-saving and cost-optimized through short loop overhang – minimum station length
Rollers do not knock against each other
Long service life – low maintenance
Easy access to the rollers
Minimized strain on cable carrier and cable carrier
Low push/tensile forces
High travel speeds and acceleration
High additional loads possible
Use of proven standard cable carriers
Cable carrier cannot rise up
Variable profile lengths, adapted to your connection points
Automatic outdoor test facility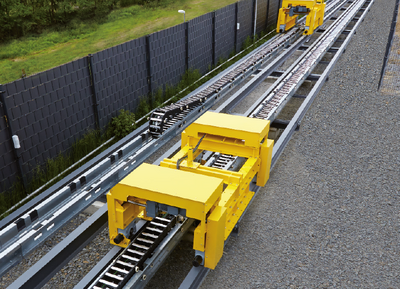 TSUBAKI KABELSCHLEPP stands for high quality and reliable solutions. Our outdoor test facility offers realistic test conditions to ensure compliance with the highest standards. Gliding and roller systems with travel lengths over 100 meters as well as high-speed applications are tested by our experts under the toughest conditions.