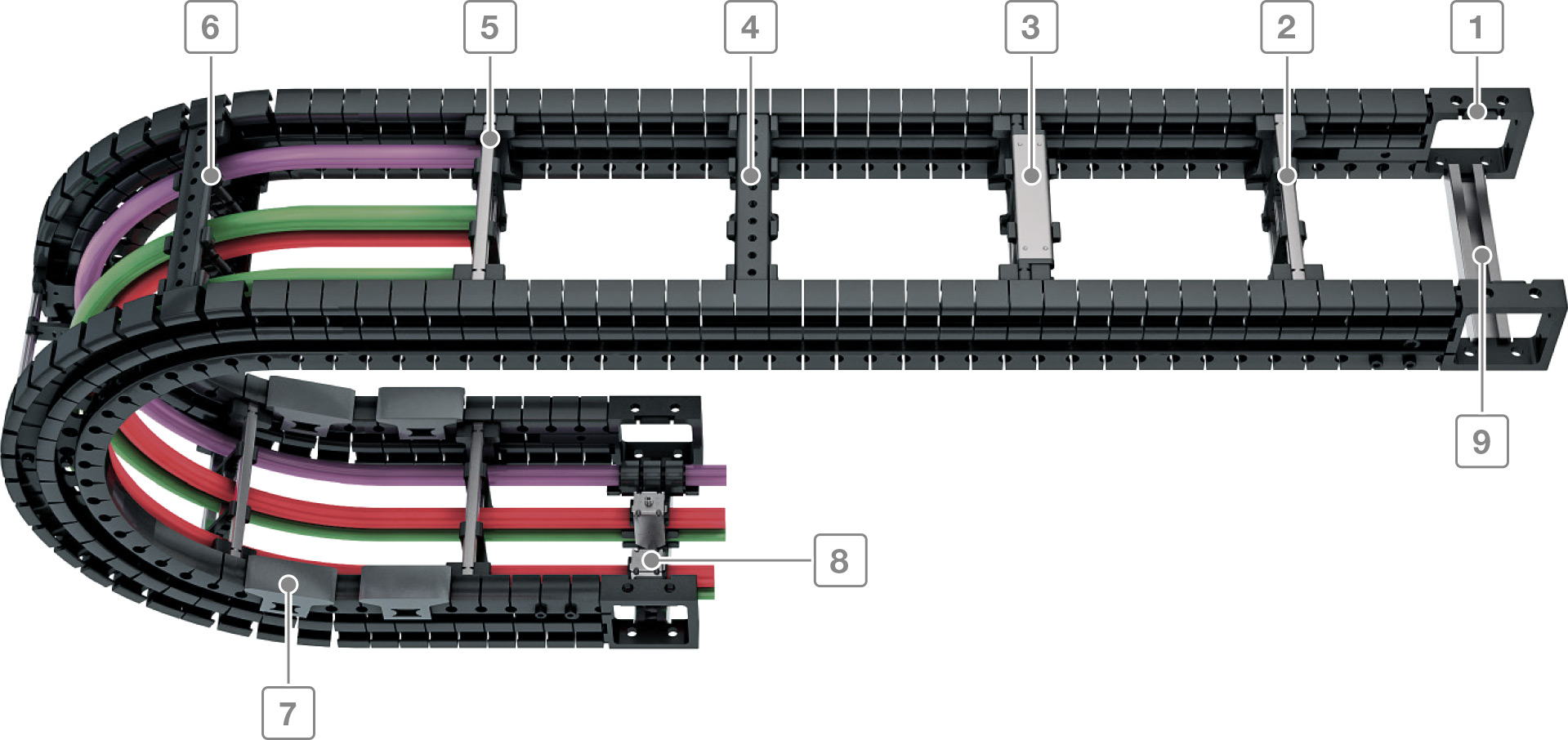 Universal end connectors (UMB)
Aluminum stays available in 1 mm width sections
Aluminum stays in reinforced design
Plastic stays available in 8 or 16 mm width sections
Can be opened quickly on the inside and the outside for cable laying
Fixable dividers
Replaceable glide shoes
Strain relief combs
C-rail for strain relief elements
Cleanroom compatible: no links, no link wear
Extremely quiet, 31 db (A)*
Extremely light
For high accelerations up to 300 m/s2
For high operating speeds up to 40 m/s
Extremely long service life: ≥ 25 million motion cycles
TÜV type tested as per 2PfG 1036/10.97
Large selection of stay systems and separating options for cables
* Tested: Q060.100.100 by TÜV Rheinland. The sound pressure level for the measured area was measured at a distance of 0.5 m for smooth and jerky movements.
Cleanroom compatible and long service life
Continuous side bands are used. In contrast to conventional hole-and-bolt connections, hardly any wear occurs (link abrasion), which makes QUANTUM® ideal for use in cleanrooms.
Extremely long service life through
No link abrasion due to absence of hole-and-bolt connections
Continuous side bands made from special plastic with integrated steel cables
Ideal for highly dynamic applications – extruded side bands
The QUANTUM® runs extremely quietly and with low vibrations. The absence of links and the very small pitch means that the so-called polygon effect is reduced to a minimum. Due to the very quiet running, the QUANTUM® cable carrier system is ideal for applications with low-vibration linear drives.